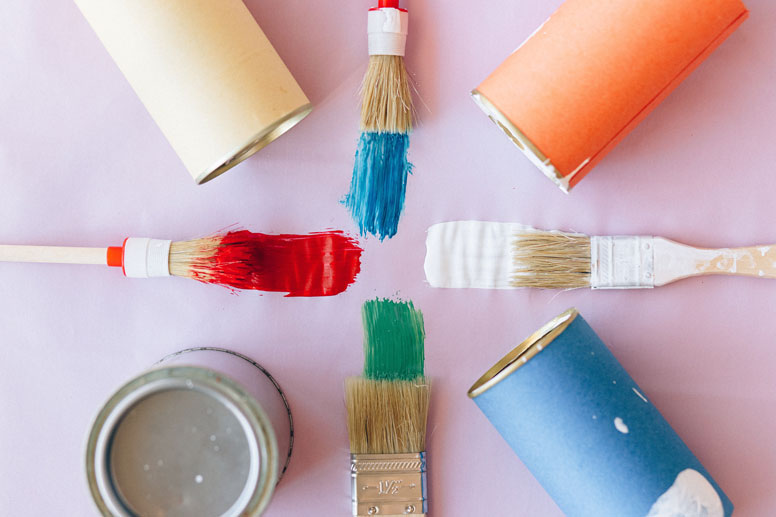 July 7, 2021
2021 Bathroom Painting Tips: Part 2 – Picking Paint
Now that you are done preparing your bathroom for painting, you will want to consider two things, the type of paint that you need to use and what colors you will use. You will need to take your time to ensure that you create the look in your bathroom that you will love.
Picking Out Paint Finish
The first thing you will want to make sure that you know the difference in the paint finish. When painting your bathroom, you must make sure that you use the right paint as your bathroom will have a lot of moisture in it.
• Bathroom walls. Since your bathroom is exposed to tons of moisture, you will need to pick a paint that does well in humid areas. Flat paint is not at all washable and is the least resistant to moisture build-up. You will want to have a paint that has a moderate gloss level. Semi-gloss and satin paints are very durable and can stand up to the humid conditions in your bathroom. These paints are washable, so you can always wipe down your walls. A full gloss paint is also an option, but you will need to keep in mind that it will make your bathroom super shiny and show any flaws in the wall.
• Window trim and door. When it comes to your bathroom door and window trim, you will want to make sure that you choose either a gloss paint or a semi-gloss paint. This is because you will see plenty of dirty fingerprints, scuffs, and scratches on these areas. If you use a gloss finish on your door and trim, it will give your bathroom a unique appeal, especially if you use a semi-gloss on the walls.
• Bathroom ceiling. In most cases, people will paint their ceilings with a flat paint. However, this should never be used in a bathroom. You will want to choose a paint that can withstand moisture well. A satin paint can stand up to moisture and will give a great look to your ceiling.
Choosing Paint Colors
Now that you know all about the types of paint you should use to paint your bathroom, you can now decide on what colors to paint your bathroom. You will want to take your time to consider the colors to ensure that your bathroom looks the way you want. Below are a few tips to help you choose.
Use the Color Wheel
If you are trying to decide what colors go together, look at the color wheel. It may give you some inspiration for your bathroom. It can tell you what colors go well together. For example, blues and greens go well together because they are next to each other on the color wheel.
Pick Out Three Colors
There is a rule of three when picking out paint colors. Choose one rich color, one accent color, and one neutral color. You should use the lightest color throughout the bathroom at 70%, and then the next lightest color you should use for 20% of the room. You should use the darkest color for 10% of the room.
Choose Two Neutrals
A neutral bathroom color scheme can create an atmosphere to relax in. When you choose two neutral colors, you will want to do 70/30 for the color scheme. A popular choice would be gray and white. You can also add in patterned elements to help the bathroom pop.
The Second Rule Of Three
The second rule of three will have you picking out a color and ensuring that you use it three different times in the room. For example, the color should be on the walls, accents, and towels. This can make your bathroom look amazing.
Dark Colors Can Be Amazing
Most people never consider painting their bathroom a dark color. However, painting your bathroom in a dark color like cocoa or charcoal can give your bathroom an amazing look. To make the room look amazing, make sure that the trim is in a bright color and use mirrors and wall décor to make the bathroom look even better.
Choose Two Bright Colors
If you want a bathroom that is energetic, you should use bright hues. For example, painting your bathroom in a mix of blue and orange can make your bathroom look invigorating. To make sure your color pops, make sure that you use a lot of white in the trim. You should also incorporate your bright colors into things like your towels and other bathroom accessories.
Organic Colors
If you want to have an organic vibe in your bathroom, consider colors like robin's egg blue or seafoam green. This will help to soften the geometric shapes found in your bathroom and soften the hard edges. These colors will give your bathroom a fresh and clean look.
As you can see, there are many different ways that you can paint your bathroom, and it will all depend on your personal preferences. Once you have chosen your paint scheme, you are now ready to paint. If you want help painting your bathroom, please call Hetrick Painting. They are a full-service painting company that is family-owned and operated. They offer affordable prices, friendly service, and can help to create the bathroom of your dreams.