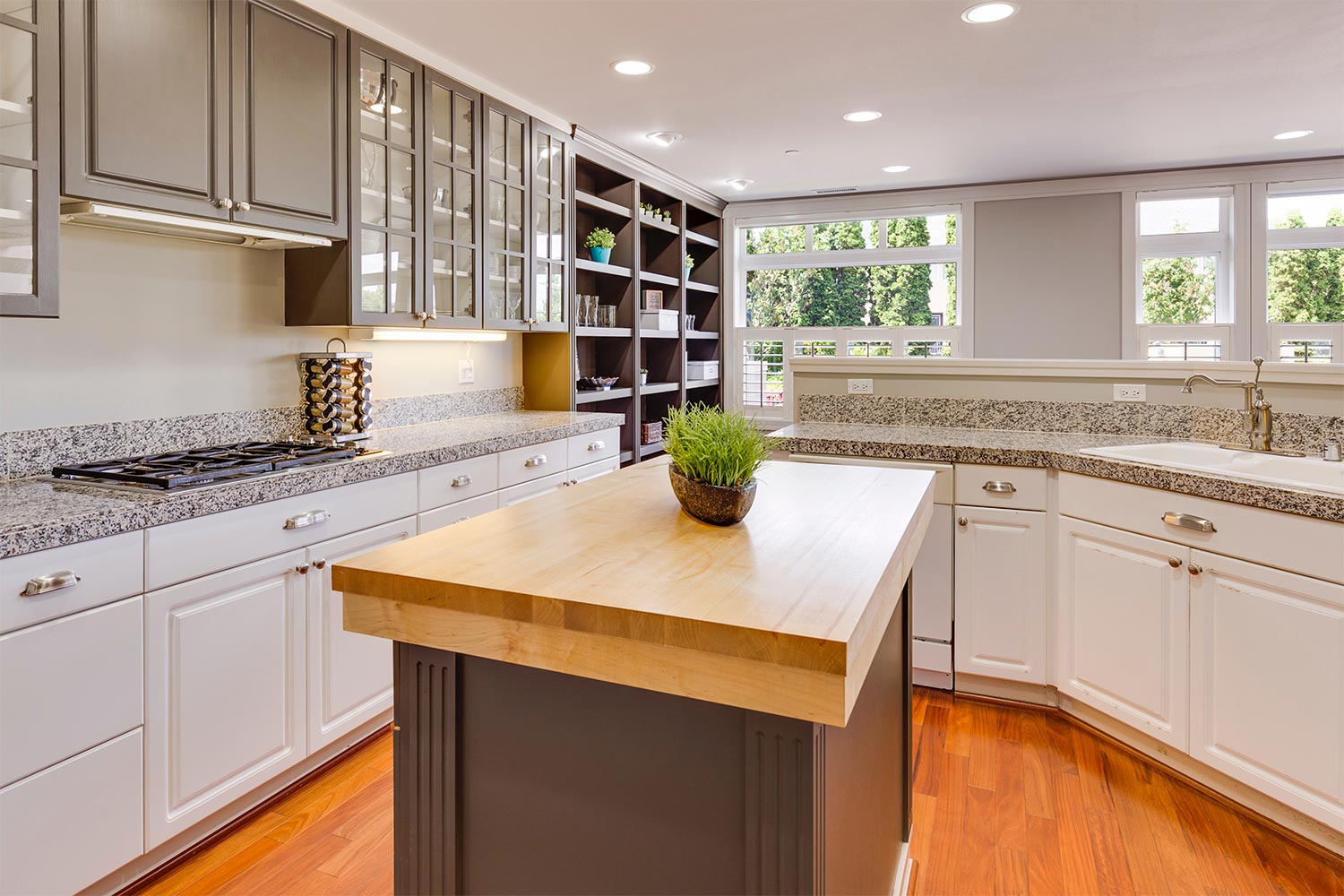 April 16, 2021
8 Tips for Painting Cabinets
One affordable way to make a home or business feel clean and fresh is to give storage cabinets a new coat of paint. Home improvement guru, Bob Vila, says painting is an incredible alternative to cabinet replacement. With the right preparation and curing, property owners can add equity and create a fresh look with a cabinet overhaul.
Consider the purpose of the paint
People who are considering selling may appreciate a paint and primer combination. These products will save time. Valspar Ultra Premium White is one option for kitchen or bathroom cabinets. When upgrading a property or overhauling a lot of cabinetry, it is less expensive to go with separate paint and primer products. Home improvement stores and paint shops will tint a less expensive primer any color. For waterproofing, knowing that the combination paints is thicker helps.
Gather supplies for painting kitchen cabinets before starting the job
Nothing is more annoying than being in the middle of a project and running out of something. Planning for surprises and overages can minimize the need to stop and start. Painting everything at the same time is preferable. There will be several paint sessions, but finishing every layer, once in progress, will ensure more even coats.
DIY Network says to go with fabric drop cloths instead of plastic because they are easy to move from one wall or project to the next. Paint trays are the opposite. They are easily replaceable, and buying several at once will come in handy. Painter's tape is another necessity that will keep the margins clean and protect glass and other materials while painting. Purchasing separate priming and paint rollers and brushes will make cleaning easier.
Take extra care when prepping to paint
Taping off cabinet inserts and glass panels will keep over spray off of these items during the project. Using quality tape will minimize paint bleed. A painter's tape will lift off the surface easily when the project is over. Masking tape will stick and tear, leaving a sticky residue that needs cleaning. Using small plastic sheets to cover larger surfaces will cut down on the prep work and use fewer painter's tape.
How to apply painters tape for painting cabinets
For tight corners in the cabinets, painter's tape ensures no paint seeps through. When spraying the cabinets, the tape is a must. When painting by hand, cabinet doors with recessed panels may be easier to do with a small brush and a steady hand. To apply tape to the corner of a cabinet, it may be helpful to work from the middle of the corner and back in each direction. Cutting the tape is acceptable with a quarter-inch overlap.
Use an electric sander
Before painting any surface, it is important to finish the prep by sanding it. Starting with a small number grit sandpaper, go over each cabinet door and base. Using a larger grain paper like 80 grit to start is ideal. Then, sand the doors again with 120 grit sandpaper. Keep a 140 or higher grit sandpaper to scuff the surface lightly between paint, varnish, stain, and primer applications.
Know how to paint cabinets for a smooth, appealing finish
Coat the surfaces in thin layers of paint to minimize streaks, drips, and blobs. Give each coating at least 24 hours to dry before applying the next coat. If the weather is humid or rainy, then adding extra drying time may be necessary. Using a fan or central air system with a dehumidifier will also speed up the process.
Always paint the face of the cabinets last
There is no need for flipping a second time when you paint the bottoms of the cabinet and the insides first. When these parts are dry, then you can turn them over once to paint the fronts. Even with multiple layers and polyurethane, completing the inside and base first will prevent the need to turn over the cabinets several times.
Never skip the top coat
Just like a top coat of clear nail polish sets in the color and protects the finish for fingernails, a cover coat protects the paint on cabinets. This top layer adds sheen and gloss to kitchen cabinets for a bright atmosphere and clean design. This extra protection also prevents water and stains from damaging the paint.
Give the cabinets time to dry
It is best to give cabinets a full two weeks to cure. Letting the paint harden for this long will prevent door slaps and bangs from chipping the surface. The hardware will not scratch the paint by waiting this long for the paint to set.
Here are a few bonus tips for painting cabinets. Ask a friend to wear a pair of gloves and help hang the doors to the kitchen or bathroom when they are ready. Always remember to clean the drawer pulls and handles. This tip is especially helpful when painting kitchen cabinets white. Finally, put the handles back before rehanging the doors.
References:
https://www.bobvila.com/articles/painting-laminate-cabinets/#:~:text=Prime%20your%20laminate%20cabinets%20for,%2C%20paint%20selection%2C%20and%20application.&text=Short%20of%20committing%20to%20a,eye%2Dcatching%2C%20modern%20cabinetry.
https://www.diynetwork.com/made-and-remade/learn-it/25-tips-for-painting-kitchen-cabinets
https://www.thespruce.com/self-priming-paint-real-or-scam-1822383