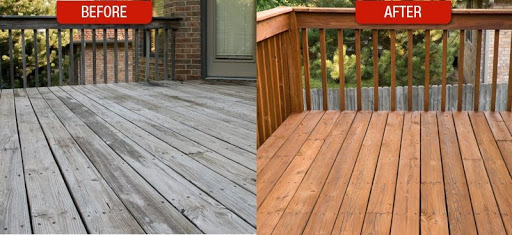 June 19, 2020
Deck Staining- When is it time to get it done or reapply?
Water takes a toll on a wood deck's finish, whether it's pounding rain or piles of snow. You can tell whether your deck stain is still protecting the wood if it repels water. If it doesn't, it's time to stain again.
Consumer Reports tests dozens of solid, semitransparent, and clear stains to find out which last longest. The worst look awful in a year. The best should last three to five years.
How CR Tests Wood Stains
CR's test engineers apply two coats of stain to pine boards, and place them on the roof of our headquarters in Yonkers, N.Y. We face the boards south and angled down, like a roof, to intensify the effects of the sun and weather for up to three years.
One year of testing tells you how a stain will do one year on your deck, or about three years of weathering on your home's vertical surfaces (siding or fences) as you'll see in our wood stain ratings.
For an aging deck with splintered wood, applying a solid stain may buy you a few more years. The stain will hold the splinters in place and fill in small cracks. Before you stain, do a safety inspection using the 10-point checklist from the North American Decking and Railing Association. Then follow these tips for staining your deck from the paint pros at Consumer Reports.
1. Check the Forecast
Wood stain won't adhere well to damp wood and can crack and peel. Apply stain to dry wood when it hasn't rained for several days and the forecast calls for at least two days of dry weather between 50° F and 90° F. Low to average humidity promotes faster drying. Staining in direct sunlight can also be a problem. The stain will dry too fast before the wood is able to absorb it.
2. Prep the Surface
The wood needs to be free of dirt and stains for the stain to adhere properly. Start by sanding splintered spots, wearing a safety mask to avoid inhaling the dust. Sweep the deck and use a putty knife to clean between the boards. Clean the wood by applying a deck cleaner. Or use a pressure washer, but if you do, the wood will need two to three days to dry.
For a deck built before 2004 that's flaking, we suggest hiring a pro equipped to safely remove the finish, dust, and debris. That's because before 2004, most decks were made of lumber pressure-treated with chromated copper arsenate (CCA) to fight rot and insects. Sanding this wood releases the toxic arsenic into the air and surrounding soil.
3. Use the Right Brushes
Synthetic brushes are ideal for working a water-based stain into the wood. Natural bristles, on the other hand, are hollow and can lose their rigidity, going limp as they absorb the water in the finish. Prefer a roller? Use one with a nap that's ¼ inch or shorter. That lets you apply a thin layer of stain that adheres to wood without pooling.
4. Match the Stain Type to Your Wood
Each type of stain has its advantages, and the type of stain already on your deck will affect your choice. "If the wood is coated with a solid stain, you can't apply a semitransparent or clear stain over it," says Rico De Paz, who runs our tests of stains and paints. Solid stain plugs up the wood pores, preventing a semitransparent or clear stain from soaking into the wood. "But a solid stain can be applied over any type of stain."
To learn more about the different types of wood stains and how long you can expect them to look good, read Benjamin Moore's List of Stains
5. Apply Thin Coats
If you're using several gallons of stain for your project, first mix them together to be sure the color is consistent. Then use long, smooth strokes to stain two or three boards at once. Apply solid stains in thin coats and semitransparent stains or clear sealers in even thinner coats. This prevent puddles, which don't soak into the wood and cause the stain to flake off when dry. Whatever type of stain you use, apply two coats to ensure there are no missed spots and to get a more uniform finish.