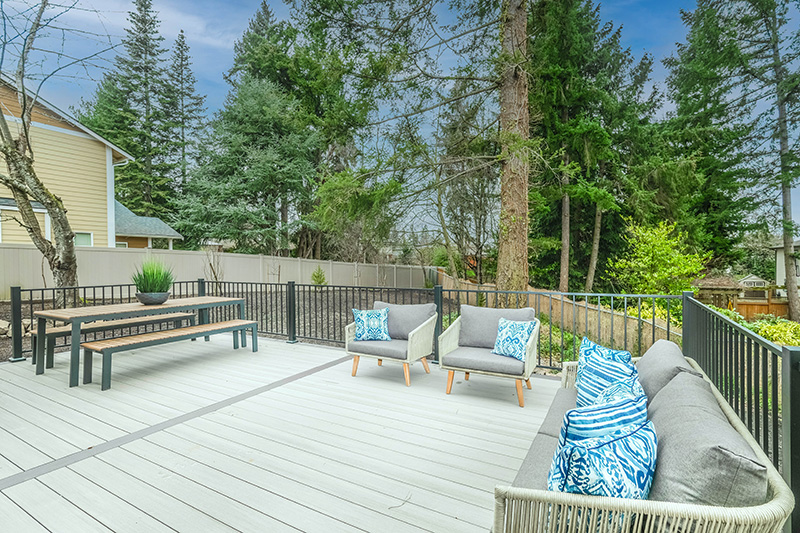 June 14, 2021
Refinishing a Deck Part 2: Painting vs Staining
Now that you have finished the first part of your refinishing deck project, you will now want to consider whether or not you will paint or stain your deck. There are several different factors to consider, and both options have their pros and cons. You will need to look at several different factors, including longevity, your personal preferences, color choices, maintenance, and how easy the application will be.
The Pros Of Painting Your Deck
If you want to paint your deck, there are several pros, and they include:
Color options. When it comes to deck painting, you have unlimited color options. If you decide to refinish your deck and paint it to match the exterior of your home, you can do so. You can also paint it a color that would compliment the color of your house. The choices are endless.
Hiding flaws. When you use paint on your deck, you can hide some of the flaws. This is especially true if you have an older deck that has a lot of weathering. You can fill in a wide variety of spaces and make the deck look good as new.
Low maintenance. A painted deck should not need to be painted frequently. If the paint job was done right and the right kind of paint was used, your deck should not need to be repainted for over ten years.
The Cons of Deck Painting
There are several disadvantages to deck painting, and they include:
Loss of beauty. When you paint your deck, you will lose the beauty of the wood. Stain can enhance these features, so if you like to see the wood grain and the neat imperfections in the wood, paint is not the way to go.
Moisture trapping. When you paint your deck, moisture can get trapped on the wood. When it rains, there will be water pooling on your deck. In some cases, this can lead to moisture getting up under the wood, which will cause your paint to peel and chip.
You will always have to paint. Once you paint your deck, you will always have to paint it unless you go through and sand all the paint off your deck.
The Pros of Staining Your Deck
If you do not like the sound of painting, your other option is staining your deck. The benefits of staining your deck include:
Stain options. When it comes to stain, there are many different options. If you would prefer a clear coat, you can do that, or if you would rather have an option that is more paint-like and a certain color, you can find that as well.
Highlighting. When it comes to refinishing your deck, and you have wood like a redwood or cedar, you can enhance the characteristics of the wood with a natural look.
Easier to apply. When it comes to painting a deck, there are many steps. Stain is very easy to apply, and you will not have to use as many coats.
Opacity. You can easily control the opacity when it comes to deck stain. You can add as many or as few coats as you want.
The Cons of Staining Your Deck
Here are a few reasons why you might decide to not stain your deck:
Reapplication. When you stain your deck, you need to do so every two to three years. If you live in an area where you have constant weather issues, you may have to stain it more frequently than that.
Cracks. If you have cracks on your deck staining, it will not help to fill in the cracks.
Flaws. If your deck is weathered, you will want to hide some of the flaws in it. It is impossible to hide flaws when you are deck refinishing with stain. The stain simply is not thick enough to hide the imperfections.
How Do You Choose
Now that you know the pros and cons of each option, you will need to make a decision. Take a look at your deck to determine if you want to use deck refinishing paint or deck refinishing stain. You will want to consider what will look great and add value to your home, and you will want to consider what kind of budget you have. Both paint and stain can be expensive depending on how much you need, the brand that you use, and the type that you get. If you are still not sure on what you should do, consider looking at pictures online to get a good idea as to what each option would look like. When you are looking at painting your deck, look at deck pictures that are in similar colors to what you are considering. You will also want to look at the colors offered with stain to see what you want to choose. Take your time and choose the best option for your deck.
Once you have chosen whether or not you are going to paint or stain your deck, you will need to prepare your deck and start painting or staining. However, if you do not feel comfortable doing this yourself and you want to make the deck look amazing, call Hetrick Painting today. They are family-owned and operated and have many years of experience in painting and staining decks. If you are still undecided on painting or staining, they can look at your deck and help you to choose the best option for it.